Apartment in Estepona, Costa del Sol, Spain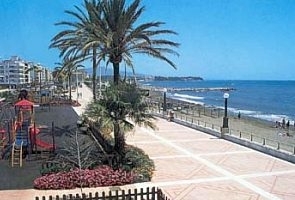 Estepona's fishing village and old Moorish Quarter can still be found amid the booming costal development. Its main beach more than 2 km long, is lined with fishing boats and along the promenade are well kept gardens with aromatic flowers and childrens play grounds. Back from the main Avendia de Espana, the old Moorish Village is surprisingly unspoilt with old squares shaded by orange trees.

Estepona is the major town on the new golden mile. It enjoys every amenity and attraction of a city yet maintains the character and charm of a traditional Spanish town. The cobbled narrow streets create a quaint and atmospheric centre that is the home of several traditional Tapas bars and cafes.